The world of transport is set to change as the UK gets ready to be completely electric vehicle (EV) ready by 2030.
Many people have expressed worry about the change, whilst they know it is better for the environment, the fact is many people may not have the money for an electric vehicle. But as well as concerns surrounding the financial costs, how ready the UK is for this change?
How EV Ready is the UK?
According to research from LeaseCarUK, the southern regions of the UK are more ready than the northern regions. With the capital, London being the most EV ready and the North West the least.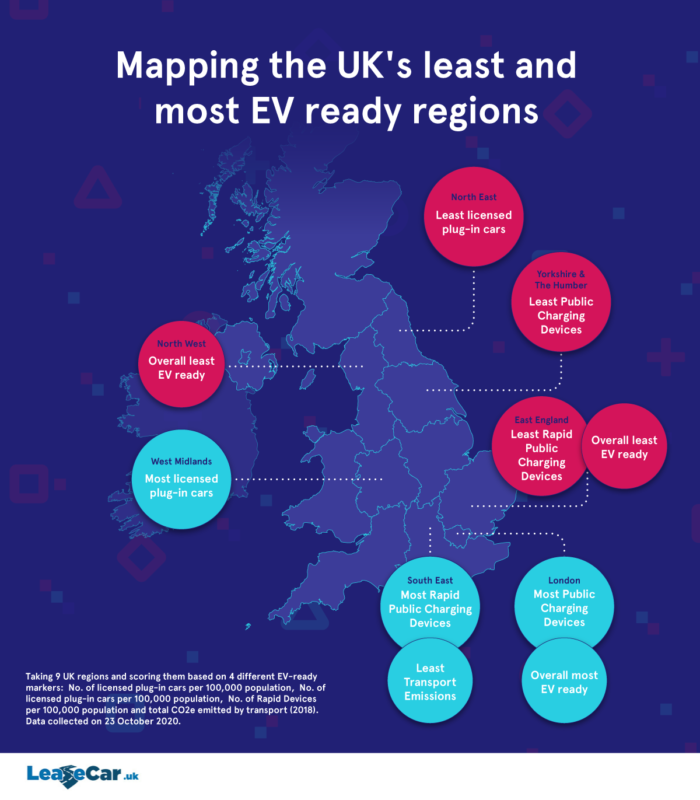 In order to come to this conclusion various elements were researched, including the number of licensed plug-in cars per region, number of rapid charging points in each region, number of regular charging devices per 100,000 population and total CO2 emissions by conventional transport.
When looking at the results independently, it's obvious that whilst the northern regions have a longer way to go, the North East seems the most prepared with 30.6 charging devices per 100,000. Yorkshire and the Humber are the least ready in terms of number of devices per 100,000 population.
People in the West Midlands are leading the way in purchasing electric vehicles at 716 per 100,000, which is fantastic in comparison to the North East at 176 electric vehicles per 100,000.
One issue facing the nation is knowing what makes a good electric vehicle, which is why we are sharing some of the best EV's available.
The Top Electric Vehicles
We have done some research around the top affordable electric vehicles that are currently available and here's our top 3 list.
Volkswagen ID 3; from £28,000
Nissan Leaf; from £26,845
Hyundai Ioniq Electric; from £30,950
Although these prices aren't the most affordable, they are the ones that come in at the lower end for this type of vehicle.
Unfortunately, there aren't many second hand electric vehicles available at the moment but by 2030, our fingers are crossed that they'll be available for all.