Eating this delicacy is a particular process. It is necessary to use special dishes and not to combine the treat with the first found product to enjoy the truly luxurious taste of russian sturgeon caviar. Pay special attention to the caviar spoon. To correctly choose the right tool, what kind of spoon for caviar is worth knowing?
The tool for caviar, what is it?
A special shaped miniature spoon is used to serve the delicacy and to eat it. The main feature is the optimal depth and a long handle. As for the materials for manufacturing, it is accepted to use the following materials for the best caviar spoons:
gold;
silver;
nacre;
horn or bone.
The shape of such an instrument contributes to the careful and gentle handling of delicate eggs, and the material does not add extra flavors.
Mother-of-pearl tools
Mother-of-pearl is one of the safest and most familiar materials for making tools. It is resistant to chemicals. The smooth surface will not compromise the integrity of the caviar grains. The material also has no extraneous odors, essential for preserving the caviar's taste characteristics. That is why the best spoon for caviar is considered to be made of nacre. The nacreous tool guarantees the absence of damage to the delicate casings. Professionals and true connoisseurs of fine products give preference to this material. Mother-of-pearl will emphasize attention to detail.
Bone accessories
Bone spoons have the same characteristics as nacreous spoons. Gourmets and professionals highly appreciate the beautiful smoothness and inertness combined with the natural appearance. Bone cutlery not only has a presentable appearance but is also long-lasting. As a result, chefs around the world often prefer such instruments. However, sometimes embarrassing things happen – a broken spoon piece can get into the dish and cause discomfort.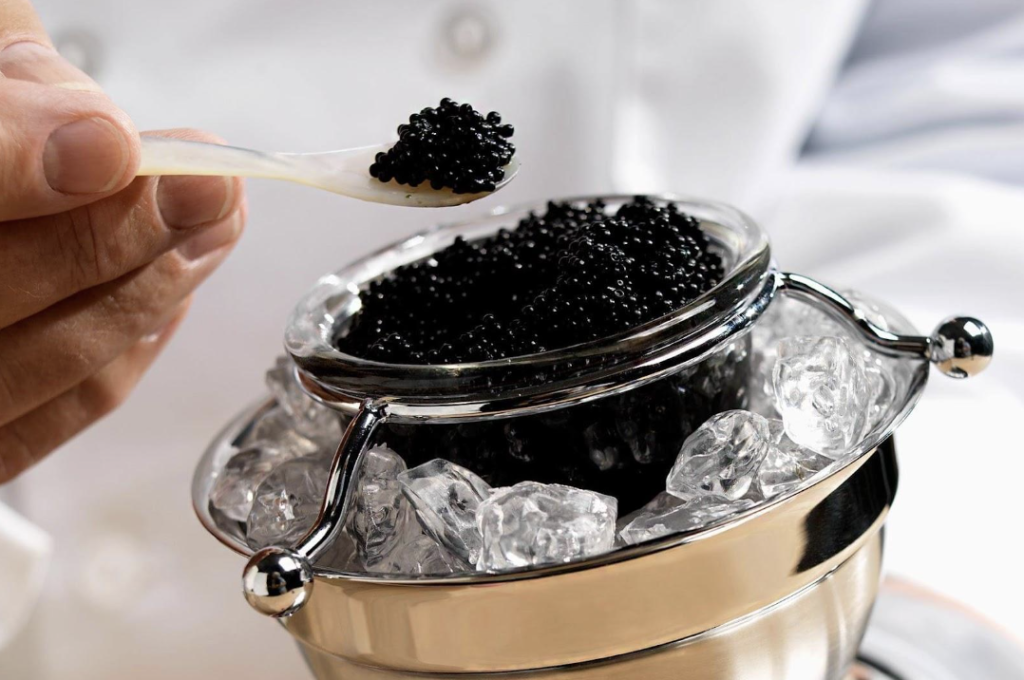 Gold and silver
A gold spoon and an expensive delicacy evoke a sense of luxury in everyone. The metal does not affect the taste qualities of the treat, so its use for caviar devices is justified. The eggs look very impressive on the mirror-like surface. However, this cutlery cannot be called affordable, so it is seldom used.
Caviar with a metal spoon is used quite rarely. It is not really a practical option. Even silver, which is more affordable than gold, is used by gourmets in rare and exceptional cases. Other metals are unsuitable for this type of utensil because they can leave a metallic aftertaste, which prevents the enjoyment of a true delicacy.
Glass and wood 
A durable and transparent material, glass is widely used in the manufacture of appliances. Transparency brings a twist and uniqueness to the serving. Like the materials mentioned above, glass does not affect caviar's appearance, taste, and quality. Moreover, it has an affordable price, which explains the popularity of its use. In addition, such items can be safely washed and sterilized and are practical and reliable. Yes, it is easy to break a glass spoon, but you can avoid trouble if you treat it carefully, especially when discussing home-use tools.
Wooden spoons are something rustic. In restaurants, you will not be able to see such a serving. And although amateurs often use devices made of this material, it is essential to understand that they are inferior to others in many ways. First, it is impossible to wash and clean wood well. The most common wood species for making spoons are:
Wooden spoons can be suitable for home use, and they are inexpensive and eco-friendly.
Conclusion
Caviar spoons are made from different materials. However, not all of them are suitable. Plastic looks cheap, creates a sense of disposability, in addition, this material is not environmentally friendly. It is also better to use something other than metal spoons, except for gold and silver. They can spoil the taste of the delicacy. Experts and gourmets call glass, mother of pearl, and bone the most suitable. These materials have all the necessary characteristics that make eating the product safely and help you enjoy it.