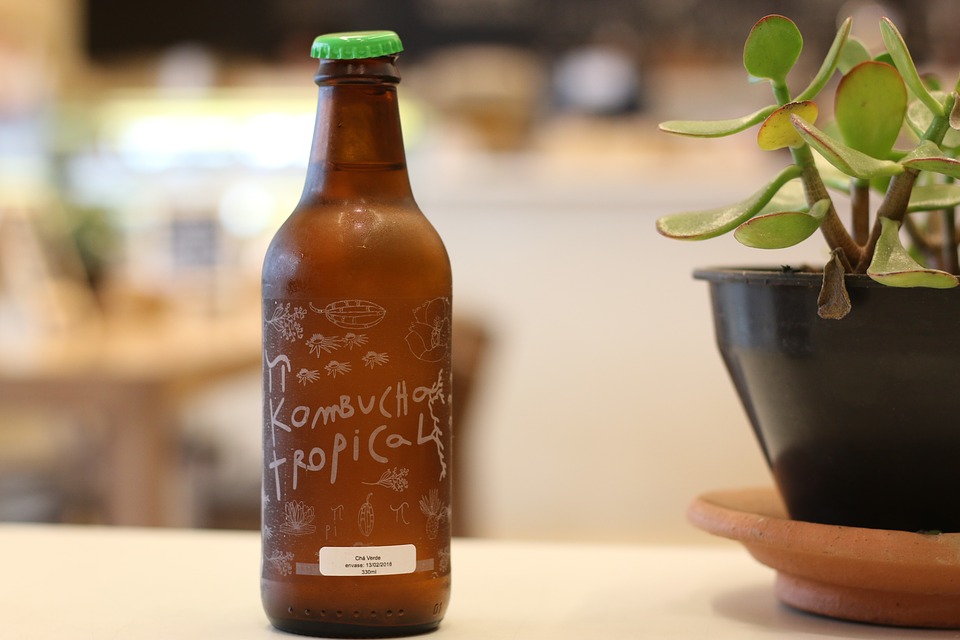 You can't walk into a health food store and not pass a bottle of kombucha glistening in the fridge. Kombucha is taking the world by storm with its tangy charm and refreshing taste. Despite being literally all over the place, kombucha is simple to make at home. If you're thinking of giving it more than just a passing sip, here's the lowdown on this delicious drink.
What is Kombucha and where does it come from?
Kombucha is an ancient and delicious drink made from fermented tea. Starting out as sugary tea, a symbiotic culture of bacteria and yeast or SCOBY for short is added which then feeds off the sugars creating a fizzy, fermented, and slightly sour drink. Kombucha is believed to have first been used in China and Japan roughly around the year 220 B.C. It is thought to have spread around the region by way of the Silk Road and was used for its healing properties. As the drink gradually gained popularity towards the end of the 20th Century, it attracted a lot of attention from the health community. The kombucha industry underwent a crisis of regulation due to varying alcohol contents that caused the industry to be re-thought. These days kombucha is back with vengeance and is quickly becoming a regular part of people's diet.
How is Kombucha made?
Kombucha is both refreshing and delicious. Making it at home is easy with the right equipment. Below is a tried and tested recipe to make an initial 1 litre of kombucha at home.
Here's what you're going to need:
A brewing jar. Ideally a 5L handmade ceramic jar, this is ideal for making small and large batches with the bonus of an easy dispenser
Cotton kombucha cotton cover. This facilitates the right airflow for the fermentation process. A simple cloth and a large elastic band will always do the trick
Kombucha starter liquid and a SCOBY
Organic sugar to act as food for the bacteria
2 or 3 green or black tea bags
Making good kombucha will take time and a bit of patience. It's not a single step process either, allowing for the second fermentation period to get that prickly carbonation and deeper flavour will take an extra few days on top of your initial fermentation time. Don't let this put you off; good things come to those who wait.
Here's the process:
Bring 1 litre of water to the boil. Steep the tea immediately and leave to cool. After 5-10 minutes remove the tea.
Once the tea has cooled off, add 1/4 cup of organic sugar and stir until dissolved.
Once at room temperature, pour the set tea into your fermentation jar. Add the SCOBY and 100ml of starter liquid.
Mix well and cover the entire jar with the cloth. Ensure it's covering the whole jar to protect from insects.
Leave to ferment at room temperature for 7-10 days and watch as a new SCOBY developed on the surface.
Towards the end of the fermentation period sample the tea and when it's reached a desirable taste remove the new SCOBY along with 100ml of fermented kombucha for the next batch.
Your kombucha is ready to drink. You can either refrigerate for a cooler more refreshing taste or you can opt for a second ferment.
What is the second ferment?
The second fermentation process is where carbonation is developed by bottling the kombucha straight after the first fermentation is complete and the SCOBY removed. The second fermentation takes place in a tightly sealed, airtight bottle with a little room at the top to allow for built-up pressure from the carbonation. The process takes 2-3 days but in cooler climates, this may take a little longer.
Be prepared for a bit of mess if your kombucha over-carbonates. It's best to source good quality bottles with good lids and store in a safe area away from precious items or food.
Tips when making kombucha for the first time
There are a few things that are good to know when making kombucha for the first time.
Keep the SCOBY and kombucha away from metal surfaces or kitchen implements. Metal can affect the taste and weaken the SCOBY's effect.
Taste your kombucha every few days to stay up to date with how the flavour is progressing. The longer you leave it, the more sour and tart it will become.
Your SCOBY will naturally float in the jar, sometimes at the bottom or on the side. Don't be alarmed if it develops brown tendrils or changes shape, this is all part of the natural process.
Benefits of Kombucha Kits
Apart from being absolutely jam-packed with probiotics, kombucha has several health benefits that shouldn't be missed. Kombucha is, among many things, a great source of antioxidants and can kill off bad bacteria. Kombucha is also a great way to increase minerals and vitamins in your diet. Always stick to the recommended dose for the best results.
Where to buy a Kombucha kit?
With a market that is swarming with kombucha starters and other equipment, sometimes it's best to buy the whole kit. Get it right from the beginning by investing in the right equipment. There's no point in doing it by halves and giving up because of a dodgy first batch. Nourishme Organics is a Melbourne based company supplying a Complete Kombucha Brewing Kit, with everything from equipment to ingredients. Here's what you can expect to find in the package:
5L handmade ceramic jar
Handmade cotton cloth cover
1 x 750ml glass bottle for the second ferment
Kombucha starter
200g sugar
50 tea bags
Instructions
If you're shopping around for ingredients, organic is always best. Not only will you get the best and most full-flavoured taste, but you can also have peace of mind knowing all your ingredients are natural and sustainably sourced. The benefit of the Complete Kombucha Brewing Kit is you can be sure your kombucha experiments will go to plan, and you can rely on a good result even with the first ferment.